HIRAM HAZLEY
- Director


Hiram Hazley, vocals, electric and upright basses, keys and drums…was a member of the fabulous Buddy Miles Express (Jimi Hendrix's Drummer), also performed with Rocky Ruckman and the Beat Heathens (Tampa Bay Electric Jazz and Rock Band), along with his own group(s) Magic & Fencewalk (both "dance" bands) and Le Jazz (straight-ahead jazz), Hazley also performed at Busch Gardens (for 20 years) as an entertainer as well as sometimes assisting the Music Director Desmond Boone with different shows, and is committed to presentation and production. He is a full- ranged musician and is currently performing in the Tampa Bay area with his aforementioned groups and teaching at his studio "Hazley Productions" where he also teaches music.
Hiram started out on the trumpet at the age of twelve (inspired then by Miles Davis, Clifford Brown, Lee Morgan, and Oscar Brashear) then began to evolve into a bassist when he was hired as a vocalist (that needed to play trumpet and bass) at Busch Gardens. But before actually getting "paid to play", he attended St. Petersburg Junior College (studying under Chris Styles), Bethune-Cookman College (now known as Bethune-Cookman University) studying under Sylvester Pope, then spent a year at the New City College studying under Ed Summerlin, where he performed in smalls groups directed by John Lewis of the Modern Jazz Quartet. Since then Hazley has shared the ideas from his vast experiences and passed them on to his bands (especially productions and presentation) which clearly separates his bands from any other bands.

His influences are (along with Miles Davis, Clifford Brown. Lee Morgan and Oscar Brashear), Maurice White and Phillip Bailey, along with Earth Wind & Fire, Rick James, Chaka Kahn, Michael Jackson and The Jackson 5. Prince, Curtis Mayfield, Sly & the Family Stone, and a host of other "mainstream" 70's groups and bands, that he considers to be the "pioneers" of today's great sounds. Besides his local bands: Magic…Fencewalk…Spasmodic Mood, and Le Jazz, he is the newest member of the legendary 50's group, "The Impressions".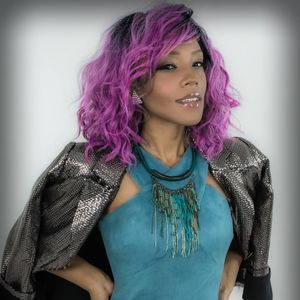 COURTNI STARR
- Artist-Songwriter-Producer


Courtney Cheri Haynes, known professionally as Courtni Starr, is a multi-talented Philanthropist, Entrepreneur, and Singer/Songwriter/Musician. Born and raised in Largo, a small community located on the west coast of Central Florida. Courtni attended Gibbs High School, a renowned visual and performance arts magnet school in St.petersburg, Fl, where she studied musical theater, dance, vocal, acting and advanced courses in Mathematics and Science. Courtni went on to spend the next three years in college where she double majored in Bio-Chemistry and Fine Arts.
By the tender age of 24, she had already worked with Grammy winning and nominated producers, writers, and artists in the music business and has had her music featured on multiple tv shows and film soundtracks. She plays guitar & piano. Courtni has also done National as well as International advertisements and campaigns for companies as far off as France and the United Kingdom.
Growing up in her mother's beauty salon, the young girl was intrigued and fascinated by the beauty products that her mother used on her clients and began researching cosmetic ingredients & chemical formulations. Eventually, after years of putting aside the vision, she began mixing and mastering her very own lotions, conditioners, serums, oils, & cremes. In 2011, she started selling her products through online retailers & select boutiques/salons/shops. Starr is extremely passionate about ensuring that customers have the absolute purest ingredients while still being economical & effective.
Courtni Starr believes that her divine purpose in this world is to manifest all of the "Abundant Substance" of the Universe that is her's by divine right while showing others how to achieve the same and much more! Unlimited, Daily Blessings and Prosperity are available to all who believe it so! She wholeheartedly states and believes, "For it is only through him that "I AM"!